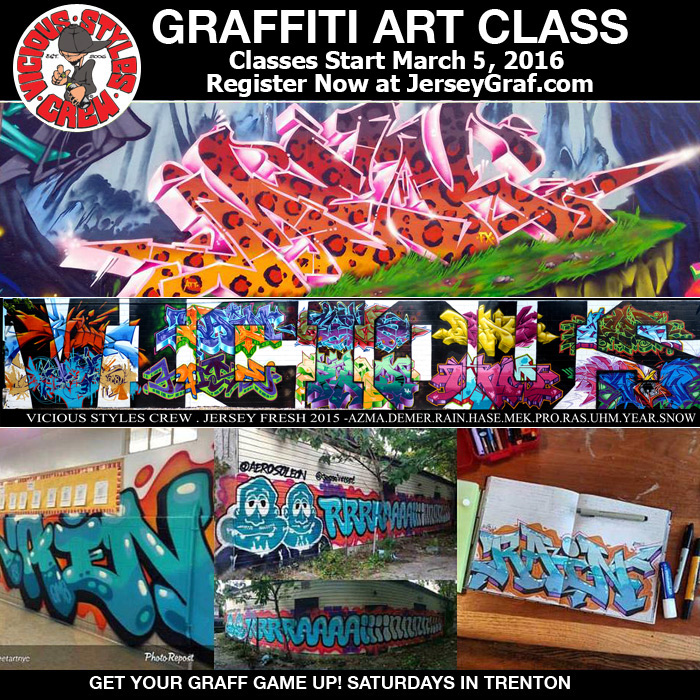 This Graffiti Art Class (originally developed by Pose Two) was created to teach and explore the history styles and techniques of the art form called graffiti. This class will follow a similar format and be taught by members of the Vicious Styles Crew.
Instructors: Leon Rainbow, Gentrifried, Will Kasso, Joe Base, Demer, Mek, Snow, Ras, Delve, and Surprise Guests!
Indoor: Studio 750, 750 Cass St, Trenton, NJ 08611
Outdoor: Terracycle, 121 New York Ave, Trenton, NJ 08608
When:
Saturdays, 10:00am – 11:30 am (1st session)
Saturdays, 10:00am – 1:00 pm (2nd/3rd session)
Cost:  $180  session 1-3 (pre-registered) , $70 1 session (pre-registered) / $20 each class (day of)

(DOES NOT INCLUDE COST OF PAINT AND OTHER ART SUPPLIES)
Some Supplies may be donated, we will have blackbooks markers., etc for sale on site.
TO ORDER AND MORE INFO CLICK HERE
Session 1: History styles and traditions
March 5 – March 26, 2016
Saturdays, 10am – 11:30am
Studio 750, 750 Cass Street
Trenton, NJ 08611
This session is an introductory lesson on graffiti writing. Within a 5-week course student will learn the basis of the history styles and traditions of Writhing. The Instructor guides the students on a virtual train ride on the past present and future of Graffiti writing. Through discussions, video, slide presentations and books students imaginations are colorfully sprayed with a rich experience
---
Session 2:  Painters Touch
April 2 – April 30, 2016
Saturdays, 10:00am – 1:00pm
Terracycle, 121 New York Ave,
Trenton, NJ 08638
This course is for students who wish to develop their lettering skills. During this session students will learn color schemes, letter formations and style concepts, the second half of the session focuses on transforming black book sketches into actual burners.
---
Session 3: Can Control
May 7 – May 21 2016
Saturdays, 10:00am – 1:00pm
Terracycle, 121 New York Ave,
Trenton, NJ 08638
This session is dedicated purely to the development of painting. Enhancing technique and style. Watch week students are expected to have a carefully drawn sketch, which they will execute on a wall under the critics and guidance of experienced Graff writers.
*** IF YOU HAVE ISSUES ORDERING USING THE FORM BELOW PLEASE PAYPAL Leon.Rainbow@Gmail.com or Bring a cash/check to the first class of the session.