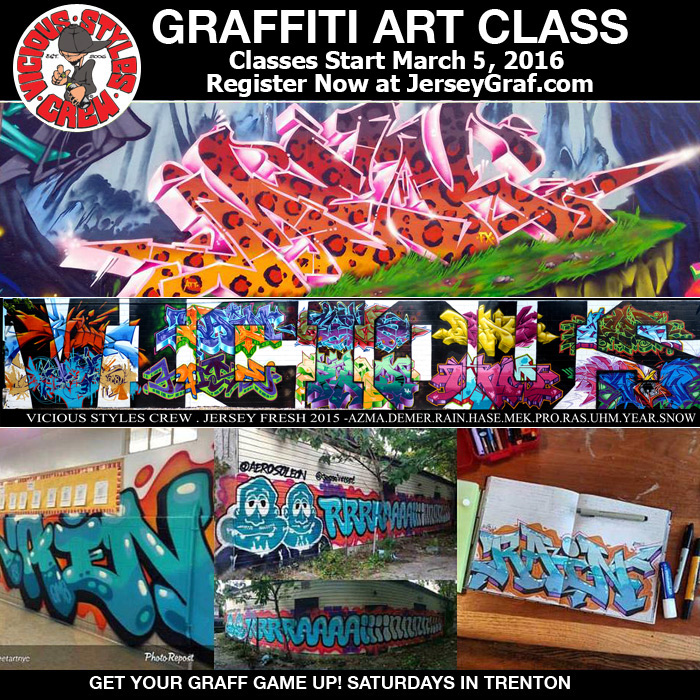 This Graffiti Art Class (originally developed by Pose Two) was created to teach and explore the history styles and techniques of the art form called graffiti. This class will follow a similar format and be taught by members of the Vicious Styles Crew.
Instructors: Leon Rainbow, Gentrifried, Will Kasso, Joe Base, Demer, Mek, Snow, Ras, Delve, and Surprise Guests!
Indoor: Studio 750, 750 Cass St, Trenton, NJ 08611
Outdoor: Terracycle, 121 New York Ave, Trenton, NJ 08608
When:
Saturdays, 10:00am – 11:30 am (1st session)
Saturdays, 10:00am – 1:00 pm (2nd/3rd session)
Cost:  $180  session 1-3 (pre-registered) , $70 1 session (pre-registered) / $20 each class (day of)

(DOES NOT INCLUDE COST OF PAINT AND OTHER ART SUPPLIES)
Some Supplies may be donated, we will have blackbooks markers., etc for sale on site.
TO ORDER AND MORE INFO CLICK HERE